UPDATE: This event is over. Winning prizes from Drew Estate were: VIGILANTE, Spartansburg, and hippieonahill. Congrats to the winners!
Cigar Dojo's monthly movie night has gained traction after the first two showings (The Big Lebowski and Shaun of the Dead), with Drew Estate now joining in on the fun! For this edition of Cigar and a Movie, Drew Estate will be sponsoring the festivities, offering THREE prize packages for Dojo members that join the HERF! (read on for more info on how you can enter to win).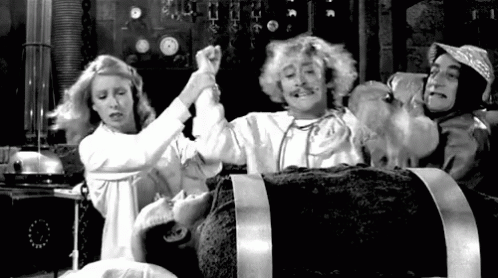 Young Frankenstein is a true classic from Mel Brooks and Gene Wilder. It is a parody of the classic horror genre, reviving the style of early monster movies, such as the multiple Frankenstein films of the 1930s.
An American grandson of the infamous scientist, struggling to prove that he is not as insane as people believe, is invited to Transylvania, where he discovers the process that reanimates a dead body.
Anonymous & Andreea D
Official hashtag: #cigarandamovie
Cigar and a Movie featuring Young Frankenstein is sponsored by
Drew Estate
and is scheduled for
Thursday, October 26th at 9PM EST
(6PM Pacific).
How to Participate
Grab yourself a copy of Young Frankenstein. This can be a physical copy (DVD, Blu-ray, VHS…), online rental, or streaming.
Grab a cigar, a drink, and a snack that you think will pair well for this movie. HINT: we recommend a Tatuaje The Frank cigar!
IMPORTANT: Start your movie any time before 9pm (EST) and get it paused on this frame—right when the "Young Frankenstein" letters stop moving. This will allow thousands of Dojo members worldwide to be in sync during the film. Pretty cool, eh?
At 9pm (EST), we will send a push notification to press play. We will also post this on the Dojo timeline. If you do not see our post or push notification, just get your movie going at 9pm (EST).
Post on the Cigar Dojo app and use #cigarandamovie with your movie/cigar-related shenanigans. Our three favorite posts will receive prize packages from Dojo-sponsor Drew Estate.
Where to find Young Frankenstein
If you don't already have a copy, Young Frankenstein can be found online in various formats.
Movie Rating:
PG
---
Streaming:
Netflix (this is the best option – even if you don't have a Netflix subscription, you can sign up for a free trial and then cancel after the movie ends to avoid any charges)
Rental: None Available
Buy: None Available
Cigar and a Movie Prizes
Drew Estate has provided three prize packages for participants of this month's movie night. Winners will be selected from Cigar Dojo's favorite #cigarandamovie posts. Get creative—dress up, show off your film memorabilia, and do what you gotta do to make us laugh… you get the idea.
Three winners will each receive:
Undercrown Sun Grown hat
Drew Estate pewter ashtray
Undercrown Sun Grown perfect cutter
We will be hosting a new movie night each month – stay tuned!
Short Link: